We know, it's that time of the year where we all look forward to doing new things, to becoming a better version of ourselves.  It's also a great time to resolve to get your home up to its best version as well. Today we go through 3 home resolutions that we here at your "Helpful Hardware Store" can help you resolve.
Get Organized
We know we say this every year as well.  But did you know that a cluttered space increases your stress levels? According to an article in Psychology Today (you can read it here), clutter can overstimulate us, lead to feelings of guilt, and can cause frustration. Now we do not advocate the whole "throw everything away" form of de-cluttering.  Especially after the recent fires we know that things mean something, and really we couldn't survive with under 30 books. But luckily we have the solutions you are looking for:
a. Shelves make a difference
We have stand-alone shelves, wall shelves, and the ability to special order more shelves. When you have a place for everything it automatically looks less cluttered. We also have shelf bins that can go on open-faced shelves to hide the contents.  This is great for everything from your socks that you store in the closet, to the legos in your kid's room, to those "treasures" that you can't quite get rid of in the living room, but are tired of trying to explain to people.
b. Make drawers more efficient
Again, when everything has a specific place that it belongs, it is easier to conquer clutter.  Drawer organizers from Interdesign come in various sizes and configurations. You can get your cutlery neat, de-tangle your jewelry, or make sure that your lotion doesn't come into contact with your toothpaste (again).
c. Seasonal storage is the way to go
We know the Christmas tree/Menorah have their Rubbermaid tubs that they live in when it's not the season.  But there are four seasons.  That flannel blanket over the couch is going to be too hot in July, but the crocheted throw won't be heavy enough for December.  Rubbermaid bins will keep your seasonal stuff safe until they are needed again.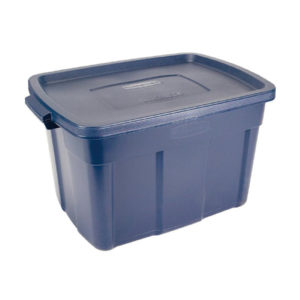 Check your Safety
Don't wait until the next disaster to make sure that you are safe! No, seriously, we had too many disasters last year and we care about our community, so before the end of January:
-Check the batteries in your smoke alarm/CO2 alarm
-Install CO2 alarms if you do not have them next to every bedroom
-If you have a second story, make sure you have a way out. If there is no fire escape consider buying an escape ladder.
– Make sure that you have copies of all important documents somewhere safe (like this fire-resistant safe)
-Have at least a week's supply of food, water, sanitary products, and medication on hand at all times.  We will always do everything possible to be open, but we don't stock your heart medicine (or your pet's meds don't forget them)
-Look for possible dangers around your house. Here is a partial list to get you started:
-Clean your lint trap
-Make sure the dryer exhaust is also clean of lint
-Have you had your chimney swept recently?
-If you have a heater, have you changed the filters, and made sure there is no dust build-up?
-Do you need a new surge protector?
-Are there any exposed wires on your lamps?
Breathe Easier
-Again we had too many disasters last year not to address this one:
Now is the time to change air/heater/vacuum/range filters.
-Buy an air purifier, now while they are not in high demand.  We like this little one for our office:
-Stock up on N64 masks.  They won't go bad, and if you never need them it's still not a waste because at least you won't be worried about having to find them.
-Buy some house plants. Not only do they break up the drabness of January, but they also help scrub the air even in the worst of smoke and smog.  We've shared it before but here is the list that NASA recommends.
-Get a humidifier. We live in a relatively dry climate (as long as you don't live on a houseboat) and our air can get really dry when it's cold. A humidifier will help balance that out and make your home a more comfortable environment until the sun returns.  We like this one the best for our home:
That's it, 3 easy things to get your home ready for a new year!