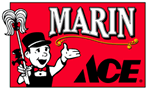 HOURS

Monday – Friday:

7:00 AM – 7:00 PM

Saturday & Sunday:

8:00 AM – 6:00 PM

Labor Day 2020 Hours: 7:00 AM – 5:00 PM

Closed on Thanksgiving, Christmas, and New Year's Day

– Other holiday hours may vary –
CONTACTS
Phone us or Text us: 415-479-9393
Fax: 415-213-0364
E-mail: shop@marinace.com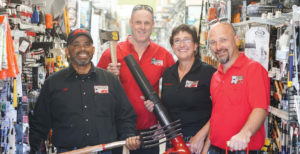 Alby Bonilla, Jeff Leopold, Michelle Leopold, and Troy Welch
Owners: Jeff Leopold,
General Manager: Troy Welch,
Marketing: Michelle Leopold
Store Manager: Scott Osterman
B2B Manager: Alberto "Alby" Bonilla,
Address: 180 Merrydale Road, San Rafael, CA 94903
DIRECTIONS
Marin Ace is located in the heart of Marin County, across 101 from the Marin Civic Center. Go West off the North San Pedro Road exit in North San Rafael, and turn right onto Merrydale Road. We are conveniently located at 180 Merrydale Road between Chevron and McDonalds. You'll find plenty of parking in the lot out front for your convenience. Click below for a map and directions from your location.