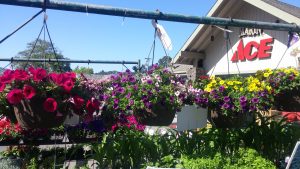 Marin Ace opened on December 15, 2011 and was the second store owned by local residents and owners Jeff and Michelle Leopold. They also owned Standard 5&10 Ace in SF's Laurel Village Shopping Center in 2011, and now have purchased Laurel Ace Oakland, as well as Oakley Ace, Pittsburg Ace, and Antioch Ace with their business partner Troy Welch. "We knew there was a hardware desert between central San Rafael and Novato," shared the Leopolds, "we had been looking for a spot to open in northern San Rafael, with the closing of nearby Pacific Lumber and, previously, Yardbirds and Cook's Hardware."
Marin Ace has been designed to reflect the needs of the community, including solutions to everyday home improvement needs, as well as an extensive array of high-quality products in categories such as housewares, paint, lawn and garden, in a convenient, easily-accessed location off 101.
The store is in the former Terra Linda Sizzler location. "Now you have to BBQ your own steaks, but we have great Weber Grills for the job," jokes "Mom" Michelle, "and you need to grow your own salad bar – but we can help with the plants, soil, and other gardening items!"
Providing "Sizzling" service remains the store's top priority. "Our mission is to provide customers with convenience combined with superior service through one-on-one expert advice and assistance," says Jeff Leopold. "We are delighted to have become a helpful and valuable neighbor to the community, both inside and outside the walls of our store."
The 5,200 square-foot store is packed with thousands of essential products and supplies, including some of the most respected brand names and best-selling items in the home improvement marketplace. Key product offerings include paint, lawn and garden, hardware, electrical, plumbing, automotive, and home décor. Not to mention Weber Grills and firepits, and an extensive housewares section featuring Cuisinart,  Krups, Microplane, OXO, Sodastream, Wilton, Yeti, and Zyliss. The store also offers a 1,400 square-foot outdoor garden center, with plants, pots, soil, and amendments – even organic chicken feed, and recently expanded their patio section on the north side of the building, "behind the fence".
Former Ace Corporate team member Troy Welch joined the management team as a business partner in 2016, and the 1921 neighborhood hardware store in Oakland's Laurel district, Laurel Ace Hardware, joined the business in April 2017, followed by Oakley Ace, Pittsburg Ace, and Antioch Ace in April 2019.
Marin Ace is proud to have many long-term team employees, and was recognized in 2016, 2017 2018, and 2019 as one of Ace Hardware's "Pinnacle" hardware stores, in the top 10% of customer service, assortment, pricing and convenience among all 5,000+ Ace stores in the US. Helping you is the most important thing we have to do every day!
Marin Ace Store Info:
Store Hours: Monday through Friday, 7am to 7pm; Saturday-Sunday, 8am to 6pm
Address: 180 Merrydale Road, San Rafael CA 94903
Phone:  415/479-9393
General Manager: Troy Welch
Owners: Michelle and Jeff Leopold, partner with Troy Welch
Store Manager: Scott Osterman
About Ace Hardware – "Locally owned, Nationally known"
Throughout its 98 year history, Ace Hardware has been known as the helpful hardware store by both customers and communities. With over 5,000 hardware, home center, and building materials stores around the world, Ace is the largest retailer-owned hardware cooperative in the industry.  Headquartered in Oak Brook, Ill., Ace retailers' stores are located in all 50 states and 60 countries. More information about Ace can be found at www.acehardware.com.