Season's Greetings from Marin Ace!
It's a little confusing this time of year – we need rakes and lawn bags for the fall leaves, we're still cleaning up the tarps and repairing things from our recent downpour, yet Hanukkah starts at sundown on Sunday 11/28, and Christmas is less than a month away because of the late Thanksgiving!
No matter what project you're working on this week, Marin Ace can help. We're grateful to be our neighborhood's helpful hardware store this holiday season, and we look forward to celebrating our 10th Anniversary at the former TL Sizzler in December! Thank you for shopping small with us since 2011.
Helping You Is The Most Important Thing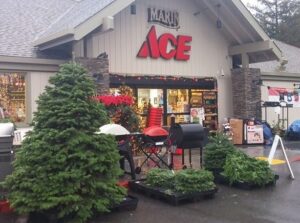 We Have To Do Every Day!
Marin Ace hours are
7:00am-7:00pm Monday through Friday
8am-6pm Saturdays and Sundays.
We will be closed Christmas Day 12/25/21 and New Year's Day 1/1/22 so our team can celebrate with their family and friends. Thank you for your understanding!
CURBSIDE PICKUP available
We're grateful to remain Always Essential and Forever Helpful!
Shop with us 24/7/365 at acehardware.com and if we have it in-stock, pick up same business day with our curbside pickup! Shipping is FREE if you select "Ship to Store" (or "Deliver From Store" in many cases too).
NEW – in this month: houseplants, and lots more succulents!
Check out what's growing in our Garden Center!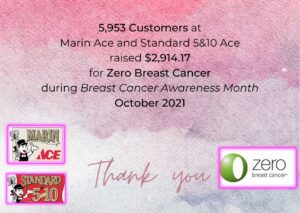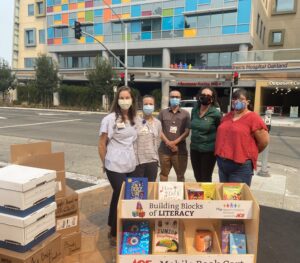 Get your Chicken Feed at Marin Ace!
We offer 50# Organic bags ($32.99), pellets or lay crumble.We care about your chickens too! Our Hunt & Behren's Organic Chicken Feed must by law utilize non-GMO corn, soybean, and canola, and H&B has been an organic certified facility since 2003.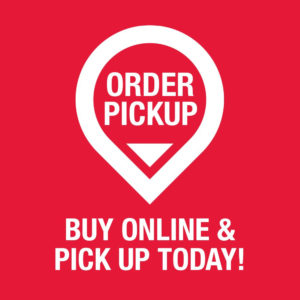 Free Pints of Paint
at Marin Ace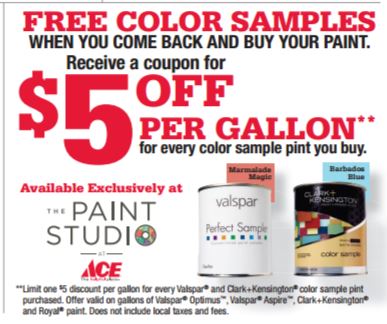 All plants & seeds at Marin Ace, Laurel Ace and Standard 5&10 Ace are neonic-free

Click here to read why we're doing this…
HINT: We love our pollinators!
Services
at Marin Ace
Offering Chip Keys and Fob Keys as well as Knife Sharpening!
Other services include Monday 55+ Senior Discount Days (10%), 10% Military Discount, Key Duplicating, Lock Re-Keying, Paint Color Matching, American Flag/Household Battery and Fluorescent/CFL Recycling, and more!
Red Hot Buys
Click to our Monthly Specials page, go to AceHardware.com, or come in to the store to see all the great deals on our Red Hot Buys through the end of the month!

Employment at Marin Ace,
Laurel Ace, & Standard 5&10

We're always accepting job applications helpful associates at all three stores.
Click Here for more information, job descriptions, and applications.
Ace Rewards
Instant Savings
Ace Rewards members get INSTANT SAVINGS every month on select sale items. Take advantage of hassle-free rebates at the register by joining Ace Rewards today at any register – and let us rebate you for shopping at Standard 5&10 Ace and Marin Ace!
Visit Our Brother Stores
Oakley Ace, Pittsburg Ace, Antioch Ace – Contra Costa County

Same great teams – Under new management (ours!) as of April 24, 2019.
Laurel Ace
We were proud to add the 98-year old Laurel Ace Hardware to our family in April 2017 – visit their website online at www.LaurelAce.com, or come in to check out our newest addition, remodeled in September 2017, with a nursery and other great additions in the past two years.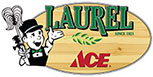 4024 MacArthur Blvd in The Laurel – Oakland, CA 94619
Call or text: 510/530-1966
Standard 5&10 Ace

Visit SF's one-stop variety store, Standard 5&10 Ace online at www.standard5n10.com, or say "hi" in person. And right next door, our housewares annex, Stan's Kitchen!
Standard 5&10 has been a landmark SF five-and-dime store since opening in 1939, and has been in Laurel Village since 1949! Shop at Standard 5&10 Ace Between Laurel and Spruce in the Laurel Village Shopping Center.
 3545 California Street, San Francisco, CA 94118
Call: 415/751-5767