Goal Zero Portable Power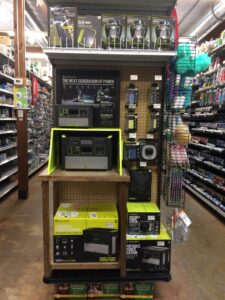 Goal Zero was founded with the powerful mission to: Empower people with a bright, safe, connected, and sustainable future by delivering smart, portable power solutions designed for everyone, everywhere.
We are proud to offer a large line of products including the Yeti Portable Power Stations. All power stations can be recharged either by plugging them into a standard electrical port or with a compatible solar panel.
The largest generator can power:
-Fridge for up to 50 hours
-32" LCD TV for up to 30 hours.
-over 50 full laptop charges or
-over 150 smartphone charges.
As we have all learned from previous fire/PSPS seasons the ability to keep a fridge running, or a T.V. on can make all the difference especially with kids at home. And now with SIP and online school, it's even more important to have the ability to stay connected no matter what PG&E's next move is. Check out their website for more information here.