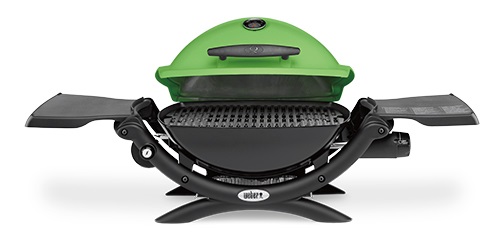 Weber Q 1200 LP Green Gas Grill
($199.00 · sku 8432494
Item# 51070001)
Perfect both on-the-go and as a stay-at-home grill, the Weber Q 1200 with its cast-aluminum body is a lightweight yet sturdy cooking companion. Replace one of the grates with the Q 1200-series compatible griddle (sold separately) for some variety to what you cook. Available in a selection of different colors, add a little flair to your cookout. May be used with the Weber Portable Cart (model #6557).
1 Stainless steel burner(s)
8,500 BTU-per-hour input
189 sq in Total cooking area
23.5 (H)x27 (W)x20.5 (L)" Dimensions (lid open, tables out)